School of Global Studies and Partnerships
A global studies school for a land-grant university
The School of Global Studies at Oklahoma State University serves as a strategic and administrative center for the university's global engagement. The School is a resource for information and support in developing high-impact international experiences and projects for students, faculty, staff and the Stillwater community.
About SGSP
Resources
to help you further your global initiatives
Information on compliance and protocol
Forms, guidelines and steps to registering your international trip
Exchange ideas, cultivate research collaboration and advance global learning through partnerships with universities around the world
---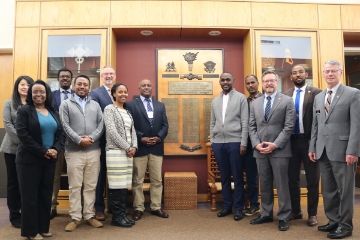 School of Global Studies and Partnerships welcomes Ethiopia Higher Education representatives
Mar 11
The Oklahoma State University School of Global Studies and Partnerships (SGSP) welcomed representatives from Ethiopia's higher educational sector to the campus of Oklahoma State University on Monday, Feb. 10, as part of the U.S. Department of State International Visitor Leadership Program (IVLP) in partnership with the Tulsa Global Alliance (TGA).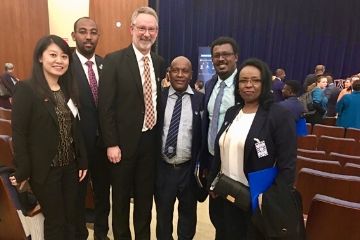 OSU recognized at U.S. Department of State's U.S.–Africa University Partnership Forum
Mar 11
Oklahoma State University's (OSU) unique contribution to the development of Ethiopian higher education was recognized at a forum organized by the United States Department of State's U.S.- African University Partnerships Forum, held in Washington, D.C. The meeting, convened by Assistant Secretary of State for African Affairs Tibor P. Nagy, brought together over 150 higher education leaders from the U.S. and from across Africa, as well as a number of Washington, D.C.-based members of the African diplomatic corp.